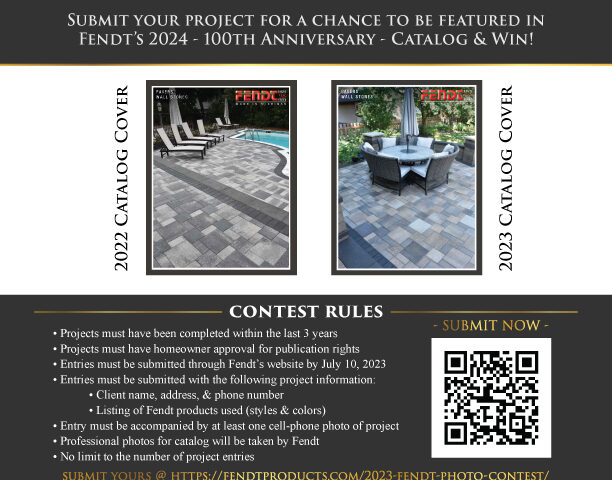 Do you have a recent landscape project featuring Fendt products you'd like to put a spotlight on? Submit yours to our 2023 photo contest below for an opportunity to showcase recent projects, be entered to win, and have a chance to make your mark in our upcoming (2024) 100th anniversary landscape catalog! Check out the details below and be sure to spread the word to your staff, customers, friends, and/or coworkers who'd like a chance to have their project featured.
Projects must have been completed within the last 3 years.
Projects must have homeowner approval for publication rights.
Entries must be submitted with the following project information:

Client name, address, & phone number
Listing of Fendt products used (styles & colors).

Entry must be accompanied by at least one cell-phone photo of project.
Professional photos for catalog will be taken by Fendt.
No limit to the number of project entries but each entry must be submitted individually.
Entries must be submitted through the form below by July 10, 2023.
Winning photos will be selected by Fendt by November 1, 2023.
Submit your project below: